Le palmarès des MTV Movie Awards 2016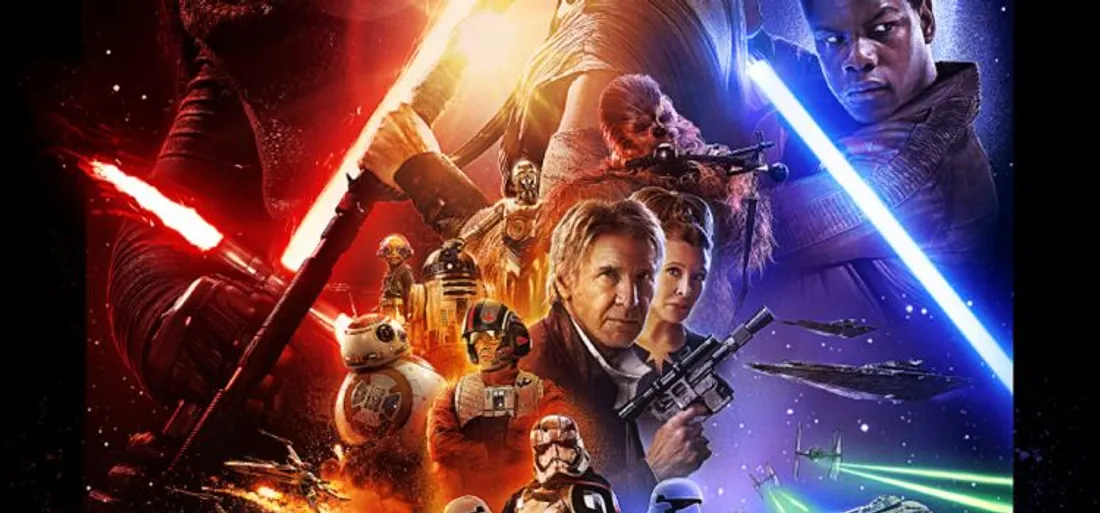 11 avril 2016 à 13h51 par Rédaction
MTV a remises trophées cinéma comme chaque année ce 10 avril avec Dwayne Johnson (ex The Rock) et Kevin Hart à l'animation.
Le grand gagnant de cette cérémonie unique c'est Star Wars 7: le réveil de la force avec 3 récompenses devant Jurassic World.
Film de l'an­née
Aven­gers : L'ère d'Ul­tron
Creed
Dead­pool
Juras­sic World
Straight Outta Comp­ton
Star Wars 7: le révéil de la force
Histoire vraie
Joy
Seul conte tous
Steve Jobs
Straight Outta Comp­ton
The Big Short
The Reve­nant
Docu­men­taire
Amy
Cartel Land
Il m'a appe­lée Malala
The Hunting Ground
The Wolf­pack
What Happe­ned, Miss Simone?
Meilleure actrice
Alicia Vikan­der, Ex Machina
Anna Kendrick, Pitch Perfect 2
Char­lize Theron, Mad Max: Fury Road
Daisy Ridley, Star Wars : Le Réveil de la Force
Jenni­fer Lawrence, Joy
Morena Bacca­rin,Dead­pool
Meilleur acteur
Chris Pratt, Juras­sic World
Leonardo DiCa­prio, The Reve­nant
Matt Damon, Seul sur Mars
Michael B. Jordan, Creed
Ryan Reynolds, Dead­pool
Will Smith, Seul contre tous
Meilleure perfor­mance
Amy Schu­mer,Crazy Amy
Brie Larson, Room
Daisy Ridley, Star Wars : Le Réveil de la Force
Dakota John­son, Cinquante nuances de Grey
John Boyega, Star Wars : Le Réveil de la Force
O'Shea Jack­son Jr, Straight Outta Comp­ton
Meilleure perfor­mance comique
Amy Schu­mer,Crazy Amy
Kevin Hart, Mise à l'épreuve 2
Melissa McCar­thy, Spy
Rebel Wilson, Pitch Perfect 2
Ryan Reynolds, Dead­pool
Will Ferrell, En taule : mode d'em­ploi
Meilleur perfor­mance d'ac­tion
Chris Pratt, Juras­sic World
Dwayne John­son, San Andreas
Jenni­fer Lawrence,Hunger Games : La Révolte – Partie 2
John Boyega, Star Wars : Le Réveil de la Force
Ryan Reynolds, Dead­pool
Vin Diesel,Fast & Furious 7
Meilleur héros
Char­lize Theron, Mad Max: Fury Road
Chris Evans, Aven­gers : L'ère d'Ul­tron
Daisy Ridley, Star Wars : Le Réveil de la Force
Dwayne John­son, San Andreas
Jenni­fer Lawrence, Hunger Games : La Révolte – Partie 2
Paul Rudd,Ant-Man
Meilleur méchant
Adam Driver, Star Wars : Le Réveil de la Force
Ed Skrein, Dead­pool
Hugh Keays-Byrne, Mad Max : Fury Road
James Spader, Aven­gers : L'ère d'Ul­tron
Samuel L. Jack­son, King­sman
Tom Hardy, The Reve­nant
Meilleure perfor­mance visuelle
Amy Poeh­ler, Vice-Versa
Andy Serkis, Star Wars : Le Réveil de la Force
Jack Black, Kung Fu Panda 3
Lupita Nyong'o, Star Wars : Le Réveil de la Force
Seth MacFar­lane,Ted 2
Meilleur casting
Aven­gers : L'ère d'Ul­tron
Fast & Furious 7
Pitch Perfect 2
Star Wars : Le Réveil de la Force
Hunger Games : La révolte – Partie 2
Crazy Amy
Meilleur baiser
Amy Schu­mer & Bill Hader, Crazy Amy
Dakota John­son & Jamie Dornan, Cinquante nuances de Grey
Leslie Mann & Chris Hemsworth, Vive les vacances
Margot Robbie & Will Smith, Diver­sion
Morena Bacca­rin & Ryan Reynolds, Dead­pool
Rebel Wilson & Adam DeVine,Pitch Perfect 2
Meilleur combat
Dead­pool (Ryan Reynolds) contre Ajax (Ed Skrein), Dead­pool
Hugh Glass (Leonardo DiCa­prio) contre un ours, The Reve­nant
Impe­ra­tor Furiosa (Char­lize Theron) contre Max Rocka­tansky (Tom Hardy), Mad Max : Fury Road
Iron Man (Robert Downey Jr.) contre Hulk (Mark Ruffalo),Aven­gers : l'ère d'Ul­tron
Rey (Daisy Ridley) contre Kylo Ren (Adam Driver),Star Wars : Le Réveil de la Force
Susan Cooper (Melissa McCar­thy) contre Lia (Nargis Fakhri), Spy